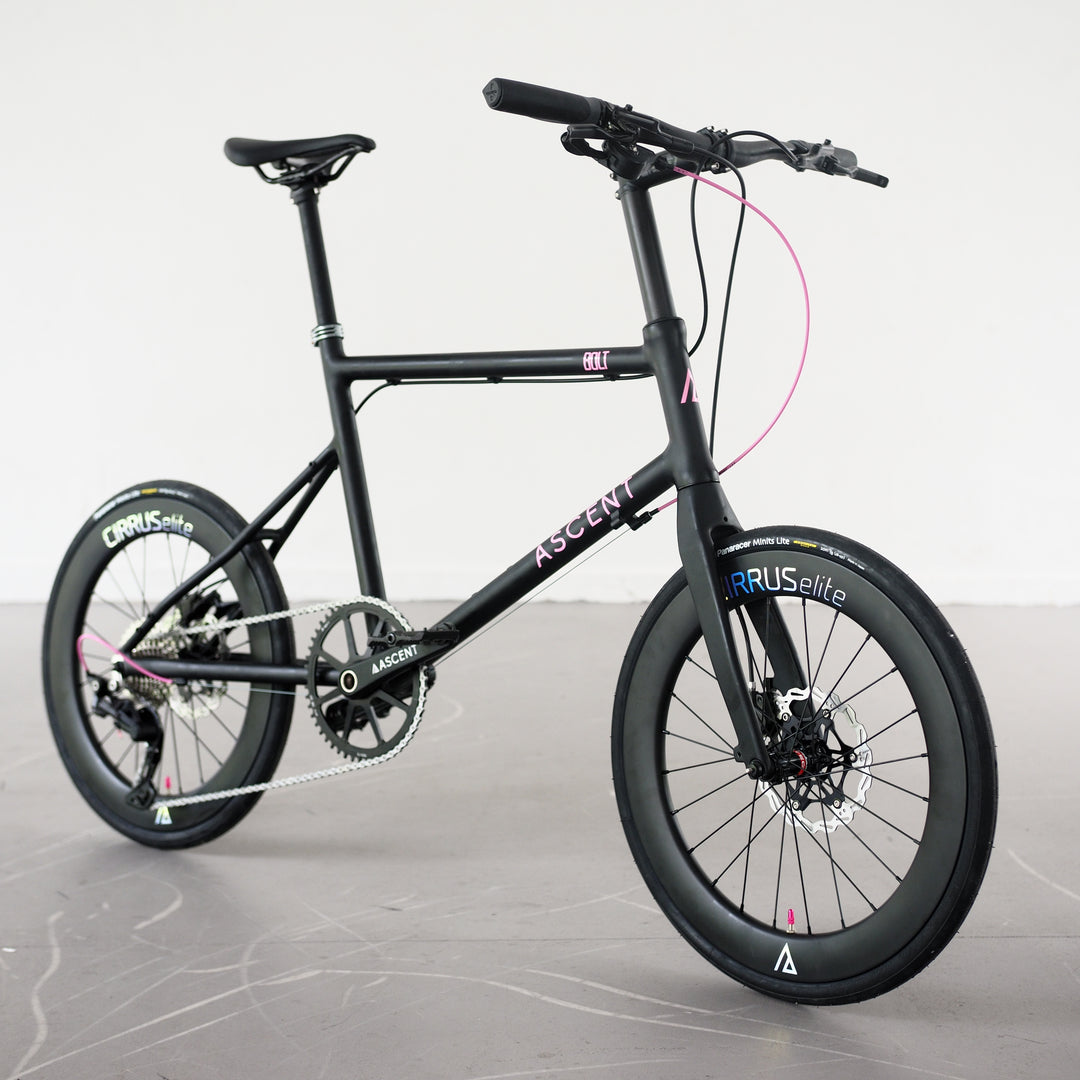 Bolt Top-End Speed Edition
---
ONLY THE BEST

For the most discerning riders who want only the best that Ascent has to offer, we bring you our top-end Bolt. Featuring carbon wheels, a 105 1x11 groupset, and our lightest and fastest-rolling upgrades, this Bolt is built for speed, style, and lightness.

Built for Speed
The front wheel is the first part of the bike that touches the air, and our Cirrus Carbon wheels slice through it like butter. With an aerodynamic 50mm rim profile, and ultralight Panaracer Minits Lite tires that boast lower rolling resistance, this Bolt is equipped with a one-two combo that brings you to new levels of speed.
Our Ascent Revolution bottom bracket features our own two-piece alloy shell that locks together to improve stiffness and alignment. We use only the best NTN bearings for smoothness, in order to make every pedal stroke silky smooth.
Shave the Weight
Every weight saving measure has been applied here, from the use of ultralight Panaracer Minits Lite tires, to carbon wheels, seatposts and saddles. Feel the rush of acceleration as you power down the road, and relish the climbs along the way.
Specifications
Frame/Fork: Bolt
Headset: Ascent 44-44mm
Stem: 100mm +17deg (default)
Bars: Carbon 600mm, 15mm rise (default)
Drivetrain: Shimano 105 1x11, 54T Ascent Crankset, 11-32T cassette
Bottom Bracket: Ascent Revolution
Chain: KMC X11.EPT Anti-Rust
Brakes: Shimano MT200 Hydraulic
Rotors: Shimano RT26
Wheels: Ascent Cirrus Carbon w/ Hubsmith Hubs (default)
Tires: Panaracer Minits Lite
Inner Tubes: CST high-grade
Grips: Ascent ergonomic
Seatpost: Ascent Carbon 27.2mm/350mm
Saddle: Carbon
Kickstand: Included upon request
Singapore orders
Pickup from our location is best - Sometimes, bikes need to be fitted to you, and wheels need to be installed properly to perform their best. We are happy to assist with that, and are best able to do so with all our tools at our disposal.​
Delivery of items is possible, and a fee will be charged if you choose this option.
International Orders
Off-the-shelf items (like wheels) will be shipped as soon as practicable. In general, we expect to ship wheels within 2-3 business days if they are in stock (ZENITH, POLARIS, Defiant carbon track wheels, Adamant Alloy wheels). Most of the required time is to get the decals prepared in your preferred color and apply them.
Custom orders like the Bolt/Intrepid mini velo and custom wheel builds will require a longer lead time of about 2 weeks to 1 month, as some parts need to be ordered and fitted. Please contact us and we will discuss the details with you.
All orders will be shipped by UPS Worldwide, except where another arrangement is required.